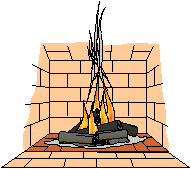 Hello and welcome. I am a consultant who offers a variety of services to the hearth products industry and to agencies with an interest in hearth products. By hearth products, I primarily mean fireplaces and stoves that are appealing to look at and make heat. Admitting a personal bias, I think every home needs a fireplace to be complete and that our lives are somehow enriched when we spend time in the warm glow of the hearth.
I consider myself fortunate to have spent most of the past twenty five years studying, learning, teaching, researching and writing about the hearth, and working with an extensive network of friends and associates across North America. Most of that time has been devoted to working with industry, government and the public to make hearth systems safer and more effective. More recently concerns over outdoor and indoor air quality have demanded most of my attention.
As you look around, maybe you will find something here that interests you and maybe there is something I can do to help your company or agency meet its hearth-related objectives. If you have a question in search of an answer, a problem needing a solution, or a message to get out, contact me and we'll talk it over.
Regards,
John Gulland